We are social animals, and our instinct is to find strength in numbers. Our health and happiness are inextricably linked with our connections. Yet, despite the sweeping effects of the pandemic, we can strengthen and sustain the community.
Strong communities have a powerful sense of purpose. People's roles have meaning in the bigger picture of the community, and each group member understands how they fit into the bigger picture.
So what do we need for powerful community building?
A) a community and B) an entity managing or taking care of it:
A COMMUNITY is an aggregation of people that share common characteristics
A COMMUNITY MANAGER is growing and sustaining its space – wherever customers, employees, partners and others help each other to achieve goals. You think "what an easy job"? Not at all – Community Building is a complex process and requires the right team.
The most significant difference between an amateur and a professional is a professional has to work within the constraints of the organization they work for. 
Community Managers usually have the same roles in the community as in the company. They have to deal with issues and people to ensure the brand benefits from having a community (and they're aware of the benefits they do receive). This is a far more difficult juggling act than simply managing a community for a hobby. 
As you will notice throughout your journey, there are plenty of overlaps in roles and activities that promise to grow your community. And although there is a difference between a social media manager and a community manager, sometimes a community host might facilitate engagement across social media channels. We don't need a rigid separation of roles, just an understanding of what organizational goal we try to achieve in each situation.
Here is a comparison of what a Social Media Manager and what a Community Manager does: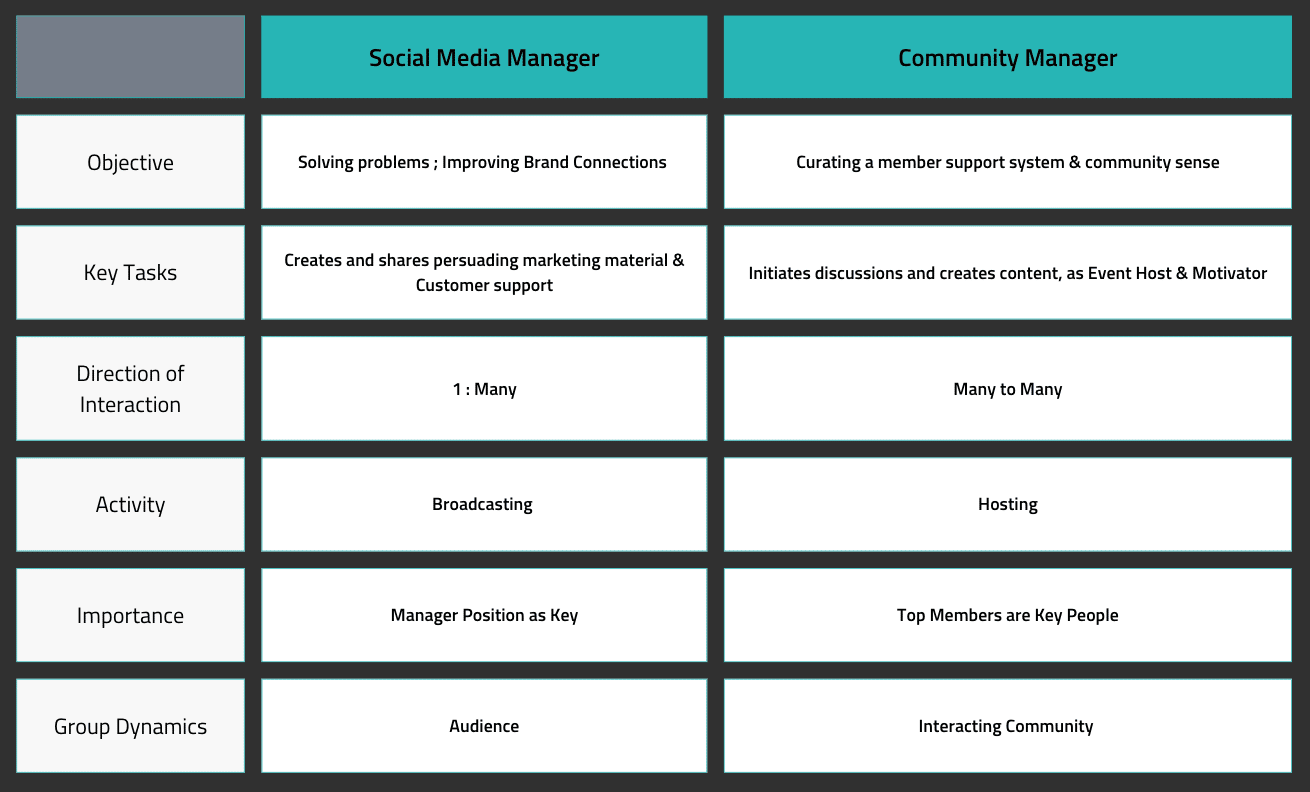 You probably did not read this post without intention. Let me ask you one essential question before we continue:
What is the common interest which connects your community?
Believe it or not, this point is crucial to decide about engagement forms, forming relationships and setting the purpose for your community. 
The type of community you're building will determine whether you're acting more as a customer support person, a facilitator,  a passionate fan, an event organizer, or a friend.  
Following are some of the most common types of community managers:
The "Supporter" This is a community manager who responds to questions, helps people to ask questions, and encourages others to answer questions. Customer support communities often have several community managers. This is usually on a forum-based platform with a community manager in a quasi-customer support role. 
The "Mentor". This is a community manager who helps members proactively share their advice with others. This might include assisting members in writing blog posts, sharing videos, contributing articles to a knowledge base, or sharing expertise in social media. The community manager is often more of a journalist or marketer. 
The "Marketer". This is a community manager who nurtures advocates (or cult fans) who spread the word, publish reviews and testimonials, and otherwise support the company. This is often more of an evangelist approach. 
The "Facilitator". This is a community manager who helps facilitate close connections between small groups of peers with a strong common interest. The community manager often plays more of a facilitator role. 
The "Event Organizer". This is a community manager who helps run user groups for users of a particular product to connect and engage with one another. In this capacity, the community manager is often more of an event organizer. 
This list might not be complete. It should e more like a guideline for you to understand that some community managers undertake all roles simultaneously, while others are just moderating or monitoring a community space. The list of activities can be endless, a reason why many in this position burn out. Community Managers are not necessarily Marketers. Coworking Spaces, e.g. often make a mistake (due to limited financial resources) of putting too many tasks on their shoulders. Not to forget: Some tasks are designed to be performed once a day, some once a week, some once a month, and a few once a year.